Yatai culture dominates at night, launching a head-on attack on all your senses. Dazzling lights from the colourful paper lanterns (chouchin) that adorn the pushcarts draw you to them, while the air buzz with the sound of sizzling meat and is filled with the mouth-watering smell of ramen broth. Alcohol is always in excess, as evident from the clink of glasses and shouts of "Kampai"!
Once common, yatai has dwindled to two main forms:
Temporary pop-up stalls in conjunction with festivals, sporting events, near popular parks, shrines and temples on weekends
Over 130 permanent yatai in localised spots throughout Fukuoka city (click the links below to view the yatai map of each area)
Tenjin (天神) Nakasu (中洲) Nagahama (長浜)
Origins of yatai

Portable food cart is a recurring theme in many Asian cultures. The long tradition of yatai started in the Edo period, which served as a convenient source of food for men under the service of feudal lords, who were required to travel to the capital and thus spend long periods away from their domains.
Yatai flourished after WW2, as selling food on the streets was one of the few ways for people to make money in these destroyed cities. Today, yatai is not just a local favourite, but enjoyed by many tourists and traveling business men as well.
How do yatai operate?
Measuring just 5m wide and 3m deep, this tiny pushcart stall is equipped with a kitchen and seats for < 8 people. This creates the perfect atmosphere for diners to talk to one another and make new friends!
Opening hours run from 6pm to around 2am, with one rest day per week (usually Sunday).
There are no restrooms! This can be disastrous when consuming copious amount of beer and munching on street food. Relieve yourself at a convenience store or park restroom.
Yatai in decline
Initially, the two major concerns regarding yatai were hygiene and yakuza. There have been complains of illegal disposal of waste such as dumping oil onto the streets, pushcarts encroaching onto sidewalks, and terribly drunk customers making a ruckus in the early morning. Although less common, yakuza gangs sometimes hang out at yatai to conduct their "business".
However, it is the pressure from restaurants that view yatai as unhealthy competition, and the lack of young people who are willing to endure the hard work of running a yatai stall that contributed to the decline of yatai culture.
Food sold at yatai
Edo period yatai served mainly sushi, tempura and soba, while yakitori appeared during the Meiji period. However, there is an abundance of food items today, catering to everyone's tastebuds!
Ramen ラーメン
The quintessential Mona Lisa of Japanese cuisine, one simply cannot resist a good bowl of piping hot ramen from the lively yatai stall! Fukuoka in particular, is known for having one of the best ramen in Japan!
Gyoza 餃子
Commonly known as fried dumplings, this delicious side dish goes especially well with ramen. It is not easy to get that perfect crispy outer layer while the inside is well-cooked.
Okonomiyaki お好み焼き
As the name suggests, this "as you like it (okonomi)" "grill (yaki)" has everything that you will like! Yatai serve simple okonomiyaki consisting of sakura ebi (cherry blossom shrimp), tenkasu (deep-fried batter bits) and green onion. A finishing touch is the familiar sweet sauce, Japanese mayonnaise, katsuobushi (bonito flakes) and aonori (dried seaweed).
Takoyaki たこ焼き
Everyone's favourite octopus balls, made of the same basic ingredients as okonomiyaki and yakisoba. Batter is poured into a grill pan and topped with chopped octopus and green onion.
Yakisoba 焼きそば
This simple dish of fried noodles is lavishly prepared with strips of pork and cabbage, garnished with katsuobushi, benishoga (pickled ginger), and aonori. Add a bit of mayonnaise for some extra flavour! There is even yakisobapan, where the noodles are sandwiched between two pieces of bread.
Kushiyaki 串焼き
This term includes a wide array of grilled food on a skewer, with the most common being yakitori (grilled chicken), consisting of different parts – momo (thigh), tsukune (chicken meatballs), and kawa (skin). Other meats such as beef, pork and even seafood can also be grilled.
Oden おでん
This winter dish consists of various food items, from toufu and fish cakes to meat and vegetable. The sweet flavour comes from stewing the items in a light dashi broth for a a very long time.
Jagabataa じゃがバター
If you put "jaga" and "bataa" together, you will get "potato" and "butter". It's the perfect comfort food!
Yaki-tomorokoshi 焼きトウモロコシ
If you want something other than potato, go for grilled corn instead. This snack is similar to corn on the cob, grilled with miso, butter and soy sauce.
Taiyaki たい焼き
Although taiyaki refers to "grilled sea bream', this snack is not seafood but a pancake in the shape of the fish (a lucky symbol). The filling is made from sweet azuki (red bean) paste, which can be found in many Japanese pastries.
Candied apple りんご飴
The candied apple is a common snack in anime scenes where the character attends a summer festival.
Chocolate banana チョコバナナ
In recent years, choco banana is gaining popularity among the youth, where a peeled banana is coated in chocolate sauce and decorated with various toppings.
Kakigori かき氷
Similar to our ice kachang, kakigori is basically a snow cone with different flavoured toppings such as lemon, strawberry, cherry and "blue Hawaiian". You will not miss a kakigori stall as it advertises by using the familiar symbol "氷" on its banner.
Nom-worthy yatai in Fukuoka
Now that you know what's available to sample at a yatai, how about visiting some great ones during your next trip to Fukuoka!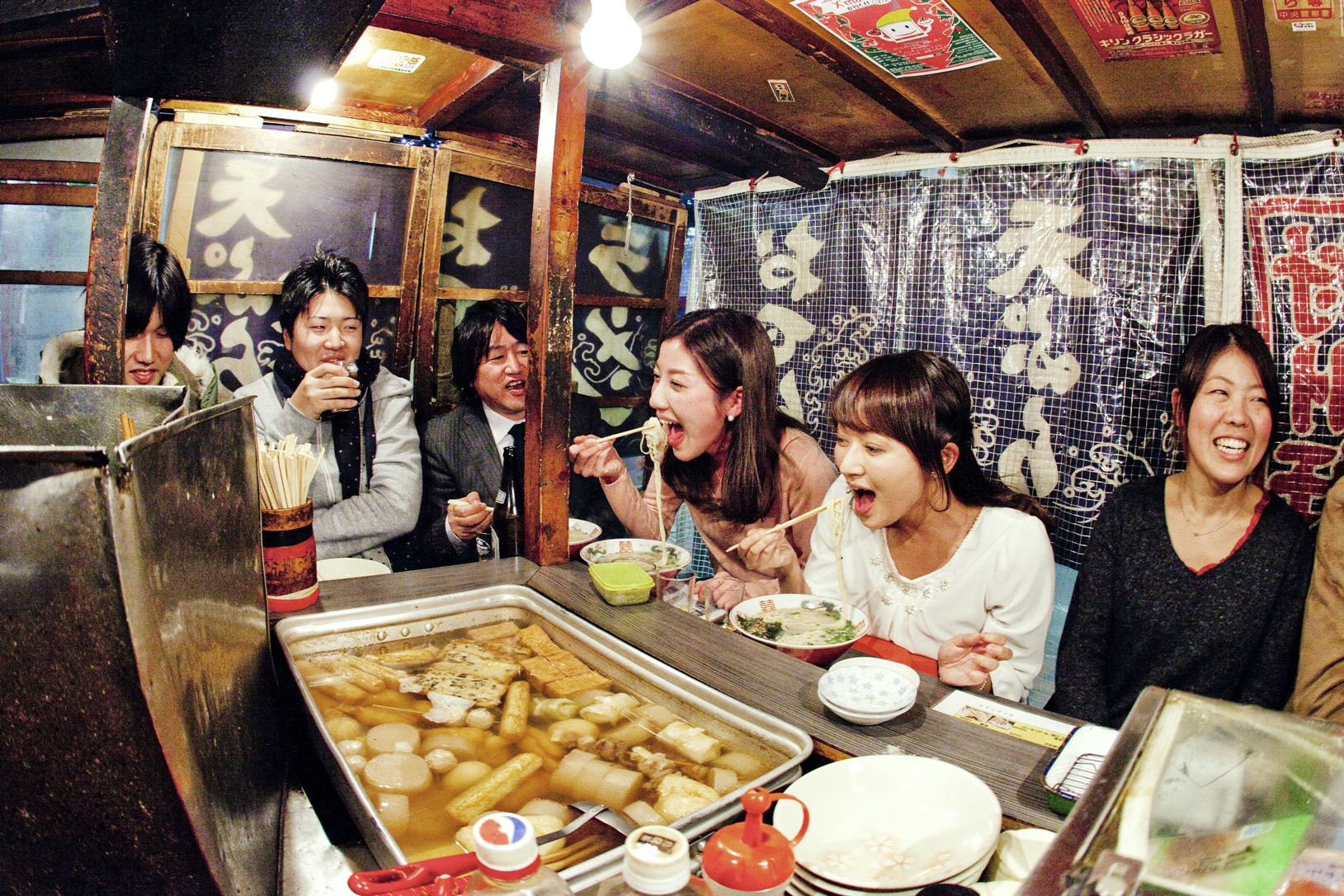 TSUKASA 司
One thing you have to try in Fukuoka is mentaiko (明太子, marinated pollock and cod roe), and you can find absolutely delicious Mentaiko Tempura here!
Address: Along Nakagawa Dori, 10 mins from Nakasu-Kawabata station (中洲川端駅)
Opening hours: 17:30~24:00 (Opens daily)
FUKUNISHIKI 福錦
A favourite among sumo fans, be sure to try their Chanko Nabe (Sumo wrestler's hotpot)!
Address: In front of the Bank of Japan, 3 mins from Tenjin station (天神駅), exit 12
Opening hours: 18:30~24:00
Closed: Sun & Public Holidays
KOKIN CHAN 小金ちゃん
Holding the title as the "originator of baked ramen" or Yakiramen, this tiny yatai does not disappoint!
Address: Opposite Hotel Monterey La Soeur Fukuoka, 2 mins from Tenjin station, exit 1
Opening hours: 18:30~02:00 (next day)
Closed: Thur & Sun
*Header image by Photo by Fai Andy
Comments
comments